I posted this last night.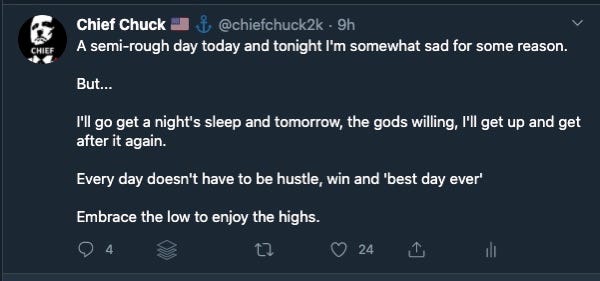 Yesterday was a rough day. It was one of those days, from a leadership standpoint, that I felt like I had lost the edge.
I had lost the 'touch'. Things I had thought our team had fixed, appeared to be broke.
Ships I thought we had righted now appeared to be listing, if not flat out sinking.
Nothing was going right, even my computer decided to fritz out on me.
Got done with work, thought "Hey, maybe a good workout will blast some of the negative energy away!" Nope. Hurt my injured knee again.
So, as I sat later, staring at the wall, a sudden urge of melancholy came over me.
Fuck it, time for bed. Maybe…maybe, a good 8 hours will do me right.
So here I am, blessed to have another day to try again. Yesterday's done.
The lesson in this?
It's OK to have down days. Just ride it out, flow, don't fight it. Live, hopefully, to fight the next day.
As a leader, you can't…and won't…have every day chalked up in the Win column.
Take it and come back to play tomorrow.
Lead from the front!
Semper Fortis
Chief Chuck
P.S. If you liked this, please leave a comment or hit like so I know you came by.